Encourage your learners to get involved
by rewarding their activities
A front-end points system keeps track of each learners' progress
Points are given as rewards for completed activities, comments, and quality of work. Progress is encouraged: points received and the end of a training course lead to learners obtaining diplomas that they can publish on their LinkedIn profile.
Each activity on the platform generates points. Learners earn points that represent their progress. The points they earn are displayed on the activity that they are working on.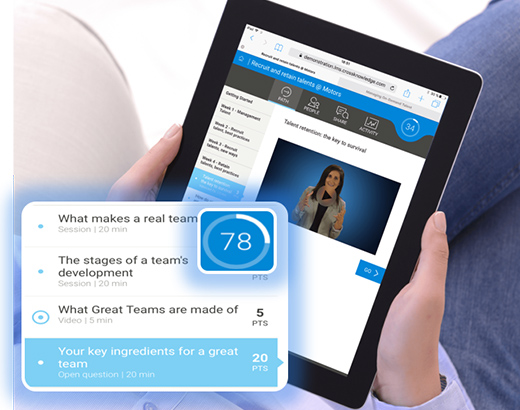 A weighting system that values involvement in specific activities
By using gamification methods in the new Blendedˣ, CrossKnowledge goes a step further, allowing you to customize the weighting of each activity. This allows you to directly show, in the platform, the value of individual-contribution activities as well as group activities, such as responses to open-ended questions.
A gratifying experience, with congratulations when activities are completed
Attendance is rewarded by a series of "player level"-type animations that provide milestones in the experience and congratulate employees for their progress.
Take your transformation
to the next level
Contact us