Das Führungsteam
Pascal El Grably
Chief Operations Officer
Pascal El Grably is in charge of international operations, which means he manages the sales and services teams. Pascal was formerly sales director at Procter & Gamble France. He is a graduate of EM Grenoble.
Steve Fiehl
Chief Innovation Officer
Steve Fiehl is a graduate of HEC Paris. Formerly director general of Hachette Custom Publishing, he is now in charge of innovation at CrossKnowledge. Steve runs the training and technology research and development teams.
Hervé Goudchaux
Chief Business Officer
Chairman of the Foundation
Formerly in charge of human resources at CCF and Dowell Schlumberger, Hervé Goudchaux has also been human resources director for the Carrefour group. He is a graduate of ESCP Europe.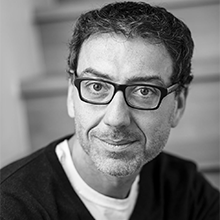 Stephan Atsou
Head of Continental Europe Operations
Stephan Atsou joined CrossKnowledge in 2007. He is in charge of operations in Continental Europe. He often speaks at international conferences, and is co-author of "e-learning: a solution for your company" (Edipro, 2009).
Jacques Levy
Head of France UK / Nordics Operations
Jacques Levy has over 20 years experience in the software industry where he has worked in a variety of areas including business development, marketing and sales. He joined CrossKnowledge in 2006 and is head of operations in France.
Christophe Peron
Head of North America Operations
Christophe joined CrossKnowledge after more than 17 years of successful experience in start-up and international companies where he has held various managing, sales and marketing positions. Christophe received his Master of Science in Marketing from Boston University.
Guillaume Finot
Head of Finance
A graduate of ESCE, Guillaume Finot began his career in companies including TBWA and Lowendal. Besides managing our admin and financial departments, his chief mission is to contribute to the growth of the group.
Estelle Milosavljevic
Head of Marketing
Estelle Milosavljevic has long-standing experience in marketing and communication, and took part in the launch of SAP for small and midsized businesses in France. She joined CrossKnowledge in 2006 and manages marketing activities for the group.
Vincent Alloo
Chief Technology Officer
Vincent Alloo holds a post graduate engineering degree (DEA) from ISEN and has an extensive experience in the field of information technologies. As Head of IT Operations at Texas Instruments France, Vincent has taken part in the implementation of HPC IT Centers and of information and highly parallel infrastructures. He has joined CrossKnowledge in 2009 as head of Technology and Production.
Jason Hathaway
Head of Content & Learning Solutions
Born in the US, Jason Hathaway is an alumnus of the University of Virginia and has been living in France for the past 15 years. Before joining CrossKnowledge, Jason taught and worked as a Program Manager at France's n°2 Business School (ESSEC). His academic career has spanned two continents and he has published numerous books and articles on language, culture and society as well as given conferences on instructional design for professionals in higher education and adult learning.