Il consiglio d'amministrazione
Pascal El Grably
Chief Operations Officer
Incaricato della gestione clienti, Pascal El Grably fa evolvere l'offerta di CrossKnowledge adattandola alle sfide ed agli obiettivi del mercato. Dirige la nostra forza vendite che accompagna i nostri clienti nell'attuazione dei progetti di formazione CrossKnowledge.
Pascal (ESC Grenoble Business School) è un ex responsabile della forza vendite di Procter & Gamble Francia.
Steve Fiehl
Chief Innovation Officer

Steve Fiehl è incaricato della strategia dei contenuti ed implementazione CrossKnowledge. Dirige le squadre ricerca e sviluppo, pedagogiche e tecniche di CrossKnowledge.
Steve (HEC Business School) é stato Direttore Generale di Hachette Filipacchi Custom Publishing.
Hervé Goudchaux
Chief Business Officer
e Direttore della CrossKnowledge Foundation
Hervé Goudchaux accompagna i clienti internazionali di CrossKnowledge nelle loro strategie di gestione e sviluppo del capitale umano. È incaricato delle operazioni in America, Asia, Medio Oriente ed Africa. Hervé (ESCP Business School) é stato HRD per i gruppi Carrefour, CCF e Dowell Schlumberger.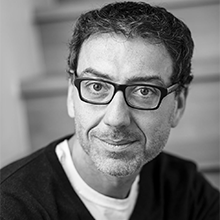 Stephan Atsou
Head of Continental Europe Operations
Stephan Atsou lavora presso CrossKnowledge dal 2007. Dirige la zona Continental Europe. Affermato esperto della formazione a distanza, esegue regolarmente interventi nelle conferenze internazionali ed è coautore del libro "e-learning: a solution for your company" (Edipro, 2009).
Jacques Levy
Head of France UK / Nordics Operations
Jacques Levy vanta un esperienza di oltre 20 anni nell'industria del software, nella quale ha ricoperto diversi incarichi nel business development, nel marketing e nella vendita. Lavora presso CrossKnowledge dal 2006 e dirige l'insieme delle attività in Francia.
Christophe Peron
Head of North America Operations
Christophe si è unito a CrossKnowledge dopo oltre 17 anni di successi in start-up e società internazionali, come AT&T, Equant e MIS, dove ha ricoperto vari ruoli nell'ambito del management, delle vendite e del marketing. Christophe ha ottenuto un Master of Science in Marketing presso l'università di Boston.
Guillaume Finot
Head of Finance
Laureato all'ESCE, Guillaume Finot a iniziato la propria carriera presso aziende quali TBWA e Lowendal. Oltre alla gestione dei servizi amministrativi e finanziari, si occupa principalmente di contribuire alla crescita del gruppo.
Estelle Milosavljevic
Head of Marketing
Estelle Milosavljevic vanta una lunga esperienza nel marketing e nella comunicazione. In particolare, ha partecipato al lancio dell'offerta SAP per le PMI in Francia. Estelle lavora presso CrossKnowledge dal 2006 e dirige il complesso delle attività di marketing del Gruppo.
Vincent Alloo
Chief Technology Officer
Ingegnere ISEN, con master in microelettronica, Vincent Alloo vanta una lunga esperienza nel campo delle tecnologie dell'informazione. Responsabile delle Operazioni informatiche presso Texas Instruments France, ha partecipato alla realizzazione dei centri informatici HPC e di infrastrutture parallele di grandi dimensioni. Lavora presso CrossKnowledge dal 2009 e dirige l'insieme delle attività relative alla Tecnologia e alla Produzione.
Jason Hathaway
Head of Content & Learning Solutions
Nato negli Stati Uniti, Jason Hathaway si è laureato presso la University of Virginia e vive in Francia da 15 anni. Prima di cominciare la sua carriera a CrossKnowledge, Jason ha insegnato e lavorato come Program Manager nella seconda Business School francese(ESSEC). La sua carriera accademica si estende a due continenti e ha pubblicato molti libri ed articoli sulla cultura e sulla società oltre ad aver dato conferenze sul design pedagogico ad esperti dell'educazione superiore.