LOCATION: Swan, Shakespeare's Globe, 21 New Globe Walk, Bankside, London SE1 9DT
With skills gaps widening at an alarming rate, and the pace of digital transformation accelerating in organisations today, it is no wonder that developing the leaders of tomorrow is becoming a critical challenge for L&D.
Join David Perring, Director of Research at Fosway Group, Europe's #1 HR and learning analyst, as he reveals how to harness the opportunities presented by digital learning to build the leadership skills that work today, and ensure your organisation is fit for the future of work tomorrow.
Following this keynote session, three CrossKnowledge Learning Designers will explore the importance of learning design, learner marketing and technology and how your organisation can leverage these to reduce the skills gap and enhance the evolution of leadership skills within your organisation.
KEY TAKE-AWAYS:
How to balance personal, operational and strategic learning in your organisation
The importance of managing talent and succession planning
The impact of digital transformation on HR and learning
How to create ongoing, social learning experiences with digital that will out-last classroom equivalents
KEYNOTE SPEAKER: 
David Perring – Director of Research, Fosway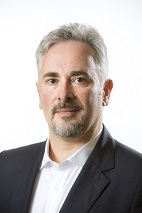 David has been a learning professional for over 30 years. Over that time, he has always been at the fore-front of learning innovation and has retained a strong sense of optimism, energy and passion for transforming organisational learning and performance. Today, he holds a truly unique and privileged position. As Director of Research for Fosway Group, he independently explores the experiences of practitioners and suppliers to understand the realities of what's happening in corporate learning, what's inspiring change and what truly makes a difference. Much of his insight is drawn from the deep research he conducts for Fosway, but equally, if not more importantly, his expertise is rooted in his own practical and personal experience of continuously improving organisation's adoption of learning and development solutions.