CrossKnowledge Breakfast Session in Oslo, November 14, 2017
November 14,2017
Oslo, Norway
The CrossKnowledge Breakfast Session is coming to Norway! If you're a Learning or HR professional, this event is designed for you. Discover the latest innovations from our learning labs and get inspired with concrete best-in-class transformation projects. More than 200 of your peers have already participated in the Breakfast Sessions and value the in-depth discussions with both our experts and their peers. The Oslo event will explore how to reinvent learning for real business impact.
Need another reason? It's free, we'll serve good food at a great venue!
Time: 8:30am to 11:15am
40 attendees
To network and to get inspiration
5 speakers
L&D and HR experts
3 learning innovations
to engage and inspire learners
Meet our speakers!
Paul Morton, CrossKnowledge UK&Nordics Director
Session: "Reinventing Learning Is the Only Solution to L&D Irrelevance"
Nora Rolstad, Competence Development Specialist, Storebrand
Lasse Hamre, Strategy Director, K
Session: "Combining the best of the digital and physical world to build a strong corporate culture"
Danish Khan, Product Marketing Manager, CrossKnowledge
Session: "How to build a high impact learning experience based on group dynamics"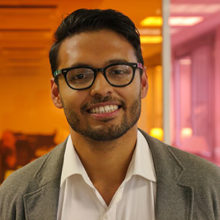 Adrian Zuffi, CrossKnowledge Nordics Manager
Session: "Sneak previews into CrossKnowledge Labs innovations"