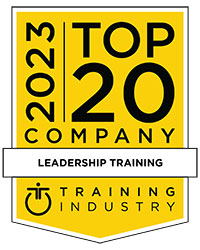 Training Industry today announced its selections for the 2023 Top Training Companies™ lists for the Leadership Training sector of the corporate learning and development (L&D) market. Training Industry, the leading research and information resource for corporate learning leaders, prepares the Training Industry Top 20 report on critical sectors of the corporate training marketplace to better inform professionals about the best and most innovative providers of training services and technologies.
CrossKnowledge listed once more among Training Industry's 2023 Leadership Training Companies
Wiley CrossKnowledge has been selected as one of the top Leadership Training providers in the world on account of criteria such as the quality of its features and capabilities, strength of geographic reach, innovation and growth potential.
Receiving this recognition for the 8th year rewards our on-going commitment to provide innovative leadership training that has impact.
CrossKnowledge product teams and learning design experts continuously improve the breadth of the CrossKnowledge Leadership Training offer, like the freshly launched Facilitated Learning Programs, designed to deliver leadership learning outcomes that address the most pressing performance barriers of today's middle managers and key talent. The programs help to unlock leadership, creativity, and team connectivity and are presented in a right-spaced blend of facilitated virtual live sessions and self-directed learning, fitting the flow of work. Employees learn together in small groups inside the organization, for maximum impact.
CrossKnowledge continues to add new high-in-demand leadership topics to the catalog, developed with its Faculty of renowned authors and experts. Curiosity, Growth Mindset, Complex Problem Solving, Corporate Ethics, Mental Health and Well-Being at Work, Digital Transformation, Guiding Change, Self-Understanding, Critical Thinking, Mindfulness, Successful Professional Reinvention, Corporate Culture, Cultural Differences, Value Creation, Accountability, Personal Productivity and Customer-Centricity figure among the newest high in demand topics and skills added to our catalogue.
"This year's selections for our Top 20 Leadership Training companies list serve the learning needs of all types of leaders from front-line employees to executives," said Jessica Schue, market research analyst at Training Industry, Inc. "As one of our most competitive and closely watched training sectors, the companies that make up this list strategically provide their learners with well-rounded offerings in leadership topics, such as agile leadership, women in leadership, conflict management and more. Along with many offerings, these organizations provide accurate and diverse metrics to help track learner engagement and reactions through assessments, ROI impact and more."
Selection to the 2023 Training Industry Top Leadership Training Companies lists was based on the following criteria:
Breadth, quality of program and service offerings,
Industry visibility, innovation and impact in the leadership training market,
Client and customer representation,
Business performance and growth.
"We're very pleased with this recognition. Leadership programs are precious to quickly align best practices within organizations and drive performance, especially in turbulent times. Rapid transformation has made the mid-layer of organizations extremely fragile and messy to navigate," says Philippe Derouck, Global Brand Manager Wiley CrossKnowledge. "Our new outcome-based facilitated programs offer the support middle managers need to navigate today's business complexity with more confidence, removing barriers for performance and employee engagement."
---
About CrossKnowledge
CrossKnowledge empowers global organizations to continuously develop a skilled workforce.
Its multi awarded digital learning solution uniquely combines digital content for the most in-demand skills, a powerful learning platform and expert capabilities to create impactful learning experiences.
For over 20 years, CrossKnowledge has been recognized as a partner for effective skill building at scale, with unmatched expertise and accountability thanks to its client success team.​
CrossKnowledge serves 500 clients, reaching 12 million learners. CrossKnowledge is part of Wiley, a leader in Research and Education, ​helping people and organizations develop the skills and knowledge they need to succeed.
About Training Industry, Inc.
Training Industry is the most trusted source of information on the business of learning. Our authority is built on deep ties with more than 450 expert contributors who share insights and actionable information with their peers. Training Industry's courses, live events, articles, magazine, webinars, podcast, research and reports generate more than 10 million industry interactions each year, while the Top 20 Training Companies Lists help business leaders find the right training partners.