CrossKnowledge wins two gold awards in Learning and Development and Talent Management category at the 2022 Brandon Hall Group Excellence in Technology Awards.
The Brandon Hall Group Excellence Awards Program is the most prestigious awards program in the industry. The program was one of the first of its kind in the learning industry, which was pioneered in 1994. Crossknowledge's wins were announced on December 8th, 2022.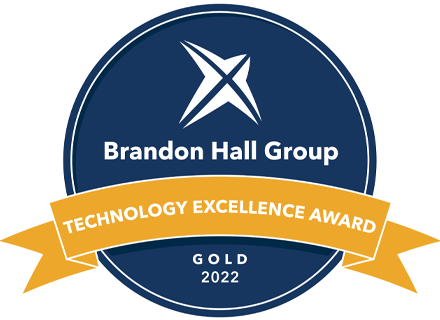 CrossKnowledge provides a unique blend of engaging learning technology and premium content on essential human skills to effectively develop talent and boost employee engagement.
Its solutions have been recognized in the Talent Management category for the first time, with a gold award for 'Best Advance in Employee Engagement Technology '.
Winning industry recognition in the Talent Management category illustrates the ability of CrossKnowledge solutions to address soaring employee engagement curves with engaging learning experiences.
The second gold recognition was in the Learning and Development category, in which CrossKnowledge contends and wins since 2015: 'Best Advance in Unique Learning Technology'.
The pandemic and digital transformation only limited the occasions for employees to reconnect. CrossKnowledge offers a unique learning experience for employees to forge connection with their peers, within their teams and with corporate purpose, while unlocking their full human potential.
"Corporate learning is instrumental in equiping employees with the essential skills to tackle the challenges of today's turbulent business environment with confidence, rather than in distress," says Philippe Derouck, Senior Global Brand Manager at CrossKnowledge. "Our clients are convinced that engaging learning tech effectively helps to develop their talent and boosts employee engagement, making our solutions relevant for business leaders and talent managers worldwide."
Entries were evaluated by a panel of veteran, independent senior industry
experts, Brandon Hall Group analysts and executives based upon these criteria:
Value proposition: What problem does the product solve and/or what need does this product address?
Unique differentiators: What makes the product unique and how does it differ from any competing products?
Measurable results: What are the benefits customers can expect to experience as a result of using this product?
Product: What was the product's breakthrough innovation?
"From our research, we know that more than half of organizations say it is critical
to advance the HCM technology ecosystem to succeed in the future of work.
Winners of our Excellence in Technology awards are the pace-setters in ensuring
employers have the leading-edge tools they need to evolve and prosper in the
challenging environment we all work in," said Brandon Hall Group Chief
Operating Officer and awards program head Rachel Cooke.
"We are honored to celebrate the foresight and ingenuity of our Technology
award winners!" said Brandon Hall Group CEO Mike Cooke. "More than 80% of
employers are optimistic about advancing digital transformation in 2023, our
research shows, and that is because these organizations and individuals who are
laser-focused on technology innovation."
---
About CrossKnowledge
CrossKnowledge empowers global organizations to continuously develop a skilled workforce.
Its digital learning solutions uniquely combine digital content for the most in-demand skills, a powerful learning platform and expert capabilities to create impactful learning experiences.
For over 22 years, CrossKnowledge has been recognized as a partner for effective skill building at scale, with unmatched expertise and accountability thanks to its client success team. CrossKnowledge serves 500 clients, reaching 12 million learners.
CrossKnowledge is part of Wiley, one of the world's largest publishers and a global leader in scientific research and career-connected education. Founded in 1807, Wiley enables discovery, powers education, and shapes workforces. Through its industry-leading content, digital platforms, and knowledge networks, the company delivers on its timeless mission to unlock human potential.
Visit us at Wiley.com. Follow us on Facebook, Twitter, LinkedIn and Instagram.
---
About Brandon Hall Group
Brandon Hall Group is an HCM research and advisory services firm that provides insights around key performance areas, including Learning and Development, Talent Management, Leadership Development, Talent Acquisition and HR/Workforce Management. With more than 10,000 clients globally and 25 years of delivering world-class research and advisory services, Brandon Hall Group is focused on developing research that drives results.