Behind the scenes of MyCrew, a training program that revolutionizes the learner experience
When a project wins a prestigious Brandon Hall Award, there's no doubt about its exceptional impact! Dive into the heart of this success story with Victoire Pellegrin, Director of Human Resources Development, and Pauline Boyer, Digital & Learning Project Manager at JCDecaux. Together, they've created an innovative learning program, MyCrew, gathering administrators from around the world under a captivating marine theme.
JCDecaux is a French family-owned company founded in 1964 that has become the world's leading outdoor advertising firm. With a global presence and a workforce of over 10,000 employees, JCDecaux has been at the forefront of creating impactful advertising solutions.
In this interview, we explore the behind-the-scenes of MyCrew, from its conception to its deployment, as well as the support provided by our teams to ensure the success of this project.
What was your goal in launching the MyCrew program?

The goal was to design an in-house learning space where administrators from different countries and professions (IT engineers, HR managers, etc.) could gain both a global and local view of training challenges. Our ambition was to bring together an international community, while fostering a sense of belonging and collaboration despite the physical distance.



How did your team come up with the idea of the sailing theme, and how did you identify the learning needs of this population (the administrators)?



We wanted to engage future administrators by using a theme that was fun and evocative for everyone. Seafaring seemed an apt metaphor for engaging future administrators and giving them a shared sense of direction.

In 2018, the JCDecaux Academy, our digital training platform within JCDecaux, was introduced to European employees. Then, in 2019, it was extended to all the countries where the Group operates, which currently stands at 84. Since then, the training platform has only continued to grow. The number of training courses available on the platform has multiplied, and the number of learners has significantly increased.
A real need to manage learners by country had emerged. We also noticed a surge in requests for creating courses along with a keen interest in sharing and collaborating within the JCDecaux Academy. A community of local JCDecaux Academy administrators was naturally formed around these learner management challenges.
A dedicated exchange space has been created on our internal communication channels, enabling community members to express themselves freely. Learning needs have thus been clearly identified.



What process did you follow to create and deploy this program, and how did CrossKnowledge contribute?



Our partnership with CrossKnowledge has enabled us to create and deploy our training program in an optimal way.

Before embarking on the design of the learning path, our team took a CrossKnowledge Academy training course to learn the best practices to follow when creating training programs.

By capitalizing on the advantages offered by CrossKnowledge Learning Channels and the exclusive BlendedX tool, our Human Resources Development Team was able to create a relevant and engaging training space. At the same time, a dedicated CrossKnowledge team provided continuous support throughout the creation, conception and design process.

CrossKnowledge also worked with us on the platform's back-office rights, associating them with the various administrator roles we had envisioned: Mariner, Captain, and Admiral.



What has been the feedback from learners so far?



So far, their feedback has been very positive. They've gained a strong sense of belonging within the MyCrew community. The community has grown steadily over the years to 71 current administrators, showing how eager people are to participate.
Numerous training projects have arisen, including the launch of country-specific pages like a dedicated space for learners in Mexico, business academies including a dedicated space for sales teams, and training translation projects.
If you want to find out more about MyCrew
and how JCDecaux has succeeded in boosting learner engagement, download the full case study!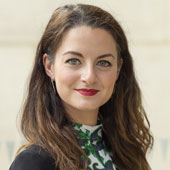 Victoire Pellegrin is Director of Human Resources Development at JCDecaux. A graduate of Neoma Business School, she has over 4 years' experience in the development of international digital projects, with proven expertise in coordinating multicultural teams and managing cross-functional projects covering areas such as purchasing, sales, finance, data, health and safety, as well as digital transformation. Passionate about digital development and innovation, she embodies a modern vision of human resources, incorporating digital best practices to maximize business potential. It is with this vision that she will create and capitalize on the MyCrew project.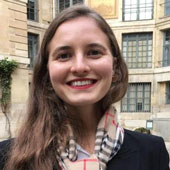 Pauline Boyer, a graduate of EM Strasbourg, is Digital & Learning Project Manager at JCDecaux. Specializing in the development of training programs, she has been one of the pillars of the MyCrew program's success since its launch in September 2022. As training project coordinator, she designs learning materials, implements training courses, and constantly evaluates their effectiveness. Her commitment to improving the company's skills and performance is central to her work.