Venessa Parker – Digital Learning Consultant at Crossknowledge
It's a question that has been on everyone's mind for the past few months: can classroom training continue to reign with social-distancing and other post-lockdown measures?
It's true that even before the crisis, the percentage of classroom training has been slowly declining in the overall mix of learning delivery thanks to digital learning accessibility.
The shifting landscape of learning delivery and approach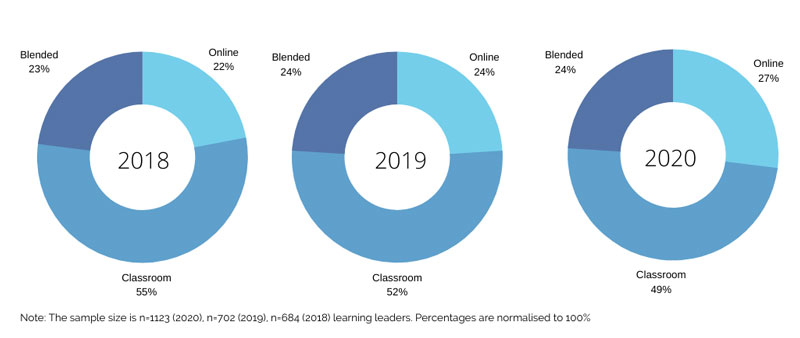 Source: Back to the Future, Emerald Works, 2020
For years there have been discussions and research papers on the need for L&D to approach learners as consumers, responding to the need for more digital and truly blended learning experiences. While many have tried to overcome barriers and challenges, with successful trials using innovative approaches to learning, the shift away from a traditional classroom format has been slow.
Leading industry research delving into how L&D has focused on more learner-led, self-determined learning experiences, including some of the major barriers, has garnered interesting results.
Critical pain points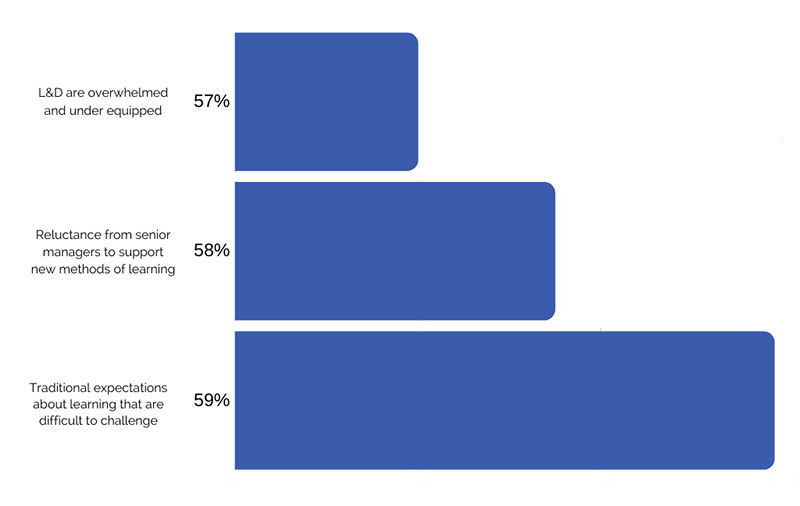 Source: Who Moved My Skills? (Towards Maturity, October 2019)
There are a number of reasons that could explain why L&D hasn't adapted quickly enough to digital transformation. Now with many organizations finding their staff working remotely, it has become critical to find ways to change as quickly as they can.
Success stories
There are however, some organizations who have adapted quite easily, despite the ongoing crisis.
For example, one social care provider with presence spread across the UK, has a vision centred around inclusivity and equality. After partnering with CrossKnowledge 4 years ago, they are able to offer a mixture of blended and purely digital learning experiences to upskill their teams on topics which are critical for their success at work. These learning topics range from highly technical hard skills for certain roles, to vital soft skills such as emotional intelligence and assertiveness.
The L&D team at this organization are well known for their efforts in working with the wider business to shift the learning culture. They had to adopt this new way of learning due to the geographic spread of their organization, the number of employees, high staff turnover due to the nature of the industry, and the need to provide services as efficiently and effectively as possible.
This winning formula quickly became known in their industry, and L&D professionals from smaller care providers began reaching out to collaboration with them during the COVID-19 crisis.
These smaller care providers offered their staff limited digital learning option, relying instead on more traditional and practical-based training (moving and assisting people, CPR, administration of medication, etc.). This meant that around 1000 care workers were dependant on classroom training to do their jobs well.
In an industry that has a direct impact on people's wellbeing, as well as compliance obligations, their challenge was giving care workers the critical skills needed to do their jobs. CrossKnowledge worked in partnership with the larger care provider, building on the existing CrossKnowledge Learning Suite (CKLS) access to offer their highly digitised learning experiences to the smaller care providers. Using CKLS, they were able to set up areas within their main platform dedicated for use by each smaller provider. This gave the smaller providers a space to easily share and learn from each other, as well as access to hundreds of relevant resources and learning experiences.
The larger care provider also went on to create a learning experience and learner marketing campaign that addressed how to provide care during isolation. The impact is clear, as connections to their platform have more than doubled- in just one month!
Although access to learning alone, regardless of format, does not drive skills acquisition or results, it is clearly a step in the right direction for these smaller providers within the care industry. It will be interesting to see whether any of the changes they are making to their learning offering will transition to their post-crisis offering.

What about global organizations?
To take one more example, let's look at a global company, which partly operates within the food industry. While they offer many classroom courses, they provide 42,500 employees access to digital learning via CKLS, curated and designed around their core business skills. Their focus towards digital learning has been centered around heutagogy- a concept centered on self-determined learning that allows the learner some autonomy when deciding which skills they need to acquire for self-development and professional success.
In the last quarter of 2019, the company worked with CrossKnowledge to roll out numerous learner marketing campaigns. This approach worked well for the smaller groups who were targeted, but there was a question about how to increase the overall number of employees accessing relevant learning experiences.
In March 2020, after travel and meeting restrictions had been in place for almost two months, many employees were working in isolation. Their L&D team decided to limit their learner marketing campaigns after feedback from employees showed they felt overwhelmed by the increase in email communications from the wider business.
Despite the numerous changes to working conditions, the number of employees accessing digital learning has still increased threefold, and the amount of time employees spend on learning activities has increased by 1500% in one month, overtaking all figures since the platform launched.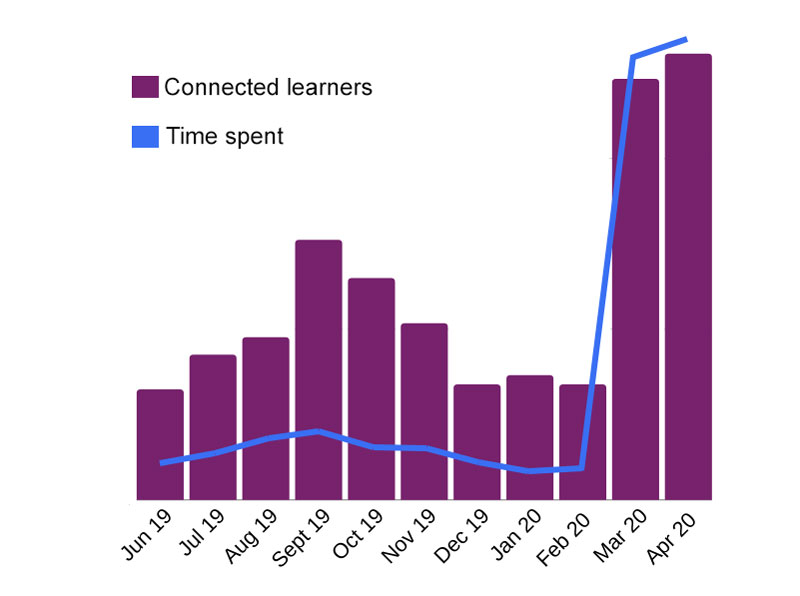 Source: CrossKnowledge
This is a dramatic increase in engagement, one that cannot be completely explained by the current situation. Beyond learning to assist during times of crisis e.g. CrossKnowledge's Together program, what else is contributing to the uplift in usage?
There's a real opportunity to look at the data:
Which employees accessed for the first time during the crisis?
What was the gap in time between the account set-up date and first access date? How does this compare to pre-crisis?
How many employees returned to the platform in the weeks following lockdown (across different geographical regions)?
What digital learning experiences were employees accessing and how were they interacting, e.g. rating content, contributing to discussions.
By answering these questions, more analysis could then be done to determine learner perception and motivation, ultimately assessing the impact on performance. This analysis could help to influence future L&D strategy, as well as the organization's opinions and expectations of L&D.
What does the future look like?
The examples mentioned here are just a snapshot of what is happening at the moment and, of course, the situation isn't positive for all organizations. Some L&D teams weren't able to successfully offer digital learning experiences even before the COVID-19 crisis. As a result, many have had their budgets frozen or totally cut.
For organizations forced to change their approach to L&D for the foreseeable future, what comes next? What lessons can be learned? What insights will the data tell? What impact will all of this have on the future L&D strategy?
To get a snapshot of the pandemic impact on L&D, the eLearning Guild sent a survey to its members. In early April 2020 they reported their results: 86% of respondents had already or were planning to move face-to-face learning to an online format, in direct response to COVID-19.
Considering the next 3 months: How many of your organization's programs/classes, etc. have been or will be shifted from face to face to an online format in response to COVID-19?

Source: The eLearning Guild, April 2020
Although these results were collated in a relatively short period of time, and by respondents who were mainly from US and Canada, the information does give an indication as to the direction L&D may take moving forward.
Even if L&D makes a bigger shift away from face-to-face methods (e.g. classroom, coaching/mentoring in person), careful consideration still needs to be given when deciding which digital method to be used. The goal is to ensure engagement, transfer of knowledge and impact, and this will require more than just publishing slide decks, creating webinars or offering e-learning courses. L&D must be proactive, reactive, and adaptable, all at the same time.
This could be a challenge, as recent research showed that L&D felt under-equipped and overwhelmed when it came to offering learner-centric experiences. To be successful, L&D is likely to need significant assistance in making a transition in the right way. Considering the time-pressures to change, finding the right learning partner can help L&D to efficiently offer engaging, impactful learning experiences.
---
ABOUT THE AUTHOR:
Venessa Parker is Digital Learning Consultant at Crossknowledge. She is an award-winning Learning and Development professional, who transforms traditional training to incorporate digital and social experiences. She now partners with various L&D teams to advise on elements such as creating a learning culture, data analysis, proving business impact and learning experience design.