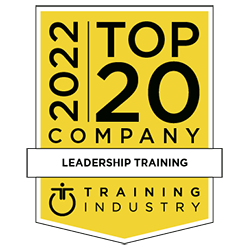 Training Industry today announced its selections for the 2022 Top Training Companies™ lists for the Leadership Training sector of the learning and development (L&D) market. Training Industry, the leading research and information resource for corporate learning leaders, prepares the Training Industry Top 20 report on critical sectors of the corporate training marketplace to better inform professionals about the best and most innovative providers of training services and technologies.
How CrossKnowledge makes a difference in the 2022 Training Industry Top Training Companies Lists: Leadership Training
CrossKnowledge has been selected as one of the top Leadership Training providers in the world on account of criteria such as the quality of its features and capabilities, strength of geographic reach, innovation and growth potential
Receiving this recognition for the 7th year rewards our on-going commitment to provide leadership training that has impact.
CrossKnowledge product teams and learning design experts continuously improve the breadth of the CrossKnowledge Leadership Training offer, adding new high-in-demand leadership topics to the catalog. Burning topics like Corporate Ethics, Guiding Change, Leadership Attitudes, Innovation, Navigate Complexity, Agility, Managing Vision, Strategic Thinking, Digital Transformation, Mental Health and wellbeing at work, Hybrid working and Critical Thinking, are all developed with our Faculty of world-renowned subject matter experts.
Combined with our engaging learning tech, these programs bring accessible, highly engaging and impactful learning experiences for leaders across the globe.
"Our client L&D organizations are upskilling their leadership teams with the latest expert insights on high in demand topics like Remote Leadership, Mental Health and Strategic Thinking, and preparing the next generation of leaders with highly engaging learning experiences that have demonstratable impact," says Philippe Derouck, Global Brand and Product Marketing Manager CrossKnowledge. "Leadership programs are precious to quickly align best practices within organizations and drive performance, especially in turbulent times."
Selection to the 2022 Training Industry Top Leadership Training Companies lists was based on the following criteria:
Breadth and quality of program and service offerings.
Industry visibility, innovation and impact in the leadership training market.
Client and customer representation.
Business performance and growth.
"As one of our most competitive and closely watched training sectors, this year's Top 20 Leadership Training companies showed strategic development toward their leadership offerings," said Jessica Schue, market research analyst at Training Industry, Inc. "With the ever-evolving training within leadership, these companies constantly adapted and adjusted topic offerings, delivery methods and technology offerings. With a wide range of leadership offerings, these provider organizations created a unique approach to employee motivation, teamwork, emotional intelligence and more to create business leaders of the future."
"The 2022 Leadership Training Watch List represents emerging and specialized leadership development companies that are motivated to help develop leaders for all roles within an organization." said Tom Whelan, director of corporate research at Training Industry, Inc. "Using new innovations like simulation experiences, assessments and other digital content, they strive to create unique experiences for all leaders."
---
About Training Industry, Inc.
Training Industry is the most trusted source of information on the business of learning. Our authority is built on deep ties with more than 450 expert contributors who share insights and actionable information with their peers. Training Industry's courses, live events, articles, magazine, webinars, podcast, research and reports generate more than 10 million industry interactions each year, while the Top 20 Training Companies Lists help business leaders find the right training partners.