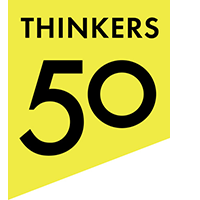 Described as the Oscars of management thinking, Thinkers50 ranks the best management and leadership thinkers in the world every two years and presents a number of awards for distinguished achievement.
The 2021 awards ceremony was held online due to Covid. The 2021 Thinkers50 Awards event took place on November 16 and was the occasion of a number of impassioned and insightful exchanges between a highly diverse selection of the world's leading thinkers.
Our 4 champions are :
Harvard professor and Wiley bestselling author Amy Edmondson, ranked #1. The popularity and impact of her pioneering work around psychological safety has been phenomenal. We are delighted and honored to be able to contribute to disseminating her ideas more widely with a wealth of content including a Masterclass entitled Build a Fearless Team.
Wharton School professor Adam Grant, ranked #6. Author of the New York Times bestselling books Option B and Give and Take, he has developed a series with us on innovation and managing people.
Duke University's Fuqua School of Business professor Dorie Clark with whom we have developed two programs: one on reinventing yourself and the other on intrapreneurship.
Erica Dhawan is a thought leader on 21st-century teamwork and collaboration. She is the author of Get Big Things Done and Digital Body Language. Our series on connectional intelligence is a must-see.
Please join us in congratulating our world champions of management and leadership in the 2021 Thinkers50 Awards! This is further proof that we offer our clients the very best of management science.

They join other CrossKnowledge Faculty members who belong to the Thinkers50 Hall of Fame, such as Charles Handy, Marshall Goldsmith (two-time winner of the Leadership Award), Tom Peters, Fons Trompenaars, Ed Lawler and more.
See the full listing of laureates in the 2021 Thinkers50 ranking.