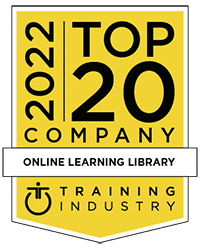 Training Industry today announced its selections for the 2022 Top Training Companies™ lists for the Online Learning Libraries sector of the learning and development (L&D) market. Training Industry, the leading research and information resource for corporate learning leaders, prepares the Training Industry Top 20 report on critical sectors of the corporate training marketplace to better inform professionals about the best and most innovative providers of training services and technologies.
CrossKnowledge among Training Industry's 2022 Top Training Companies™ for the Online Learning Library sector of the L&D market
Receiving this recognition for the 11th consecutive year confirms the excellence and relevance of our corporate learning catalogue. The extensive CrossKnowledge Library with high quality expert content on leadership, management and personal development is available in 17 languages and is the foundational stone for the effective up and reskilling of high performing global companies.
"This year's Top 20 Online Learning Library Companies features a strong course catalog that sets the standards of quality comprehensive solutions," said Jessica Schue, market research analyst at Training Industry, Inc. "These organizations offer up-to-date, on-demand content covering a broad array of training topics with the capabilities of customizing the learner experience to keep their learners engaged."
Selection to the 2022 Training Industry Top Online Learning Library Companies List was based on the following criteria:
Breadth and quality of courses, features and capabilities,
Industry visibility, innovation and impact in the online learning library market,
Client and user representation,
Business performance and growth.
"We are very pleased with this recognition as it rewards our Library and Product teams' daily efforts to propose relevant and expertly designed learning experiences on the most in-demand skills for today's complex business environments," said Philippe Derouck, Senior Global Brand Manager, CrossKnowledge.
---
About Training Industry, Inc.
Training Industry is the most trusted source of information on the business of learning. Our authority is built on deep ties with more than 450 expert contributors who share insights and actionable information with their peers. Training Industry's courses, live events, articles, magazine, webinars, podcast, research and reports generate more than 10 million industry interactions each year, while the Top 20 Training Companies Lists help business leaders find the right training partners.