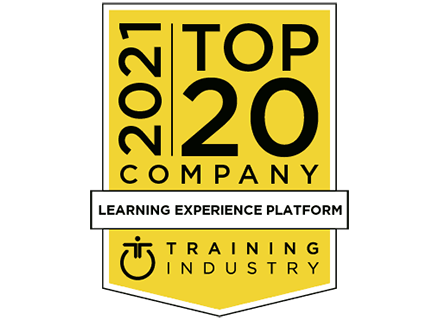 Training Industry today announced its selections for the 2021 Top Training Companies™ lists for the Learning Experience Platform (LXP) sector of the learning and development (L&D) market. Training Industry, the leading research and information resource for corporate learning leaders, prepares the Training Industry Top 20 report on critical sectors of the corporate training marketplace to better inform professionals about the best and most innovative providers of training services and technologies.
CrossKnowledge named in the 2021 Top 20 Learning Experience Platform (LXP) companies by Training Industry
The CrossKnowledge Learning Suite (CKLS) has been selected as one of the top learning experience platforms (LXPs) on account of criteria such as the quality of its features and capabilities, strength of geographic reach, innovation and growth potential.
Receiving this recognition for the 1st time rewards the robustness of our learning experience platform CKLS as a central go-to-point for both relevant distribution and easy creation of highly engaging and impactful learning experiences.
This year's Top20 Learning Experience Platform (LXP) companies continue to push the boundaries of engagement with the learner […]
The companies selected demonstrated how a learning system can truly impact the quality and efficacy of the learner experience. Leveraging AI, collaboration strategies and multi-modal learning, the top 20 LXP companies are focused on improving employee performance.

Ken Taylor, CEO of Training Industry
This award also acknowledges our on-going advancements in the field of learning analytics, with the recent releases of our easy-to-use dashboards demonstrating learning impact in a blink, and automated data extracts that feed our clients' own BI tools for advanced learning and people analytics.
We are delighted with this award that recognizes our ability to provide leading global corporations with a full solution for effective skill building […]
An efficient global learning experience platform like CKLS allows them to continuously upskill their workforce: maximizing human potential as well as business performance, to remain ahead of the game.

Philippe Derouck, Global Brand and Product Marketing Manager, CrossKnowledge
---
About Training Industry, Inc.
Training Industry is the most trusted source of information on the business of learning. Our authority is built on deep ties with more than 450 expert contributors who share insights and actionable information with their peers. Training Industry's courses, live events, articles, magazine, webinars, podcast, research and reports generate more than 10 million industry interactions each year, while the Top 20 Training Companies Lists help business leaders find the right training partners.