Take full advantage of our extensive range of programs and solutions​
Enrich your learning catalog and offer your learners the best learning experience in your Cornerstone Learning environment with CrossKnowledge's extensive range of human and leadership skills programs at scale:​
Blended learning paths​
Corporate academies to support your business priorities​
Quality content developed with our Faculty of experts
Build and distribute effective and engaging learning experiences
Empower your subject-matter experts to create their own blended learning paths and capability academies using our blended learning technologies, and seamlessly bring them over to your Cornerstone portal. ​
Simplify and automate your HR and learning-related tasks
Enhance efficiency and reduce manual effort, as we synchronize your CrossKnowledge solutions and your learner data.​
Ensure seamless access for your learners
Your learners connect seamlessly through Single Sign-On, on desktop and mobile.​
Make data-driven decisions
Achieve a deeper understanding of the effects of your learning initiatives, enabling data-driven decision-making: our connector automatically synchronizes the user progress & tracking to your Cornerstone customer portal.​
Leveraging Cornerstone Content Delivery System
and CrossKnowledge APIs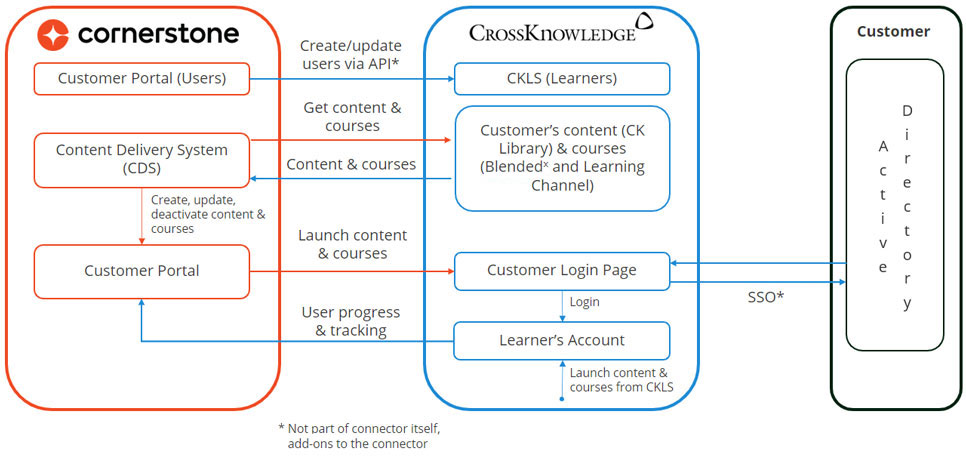 Cornerstone
Leveraging CSOD CDS, a robust API-based standard connector to synchronize your learners, catalog and tracking.