Leadership is currently undergoing dramatic changes in this digital and VUCA (Volatile, Uncertain, Complex and Ambiguous) world. A wealth of information is available on how to lead a digital transformation project, but Amit Mukherjee goes further and explores how the absorption of digital technologies is affecting the very idea of what it means to lead.
Indeed, leaders need to deal with an increasingly fast-moving environment, a greater diversity of people in that environment and the ongoing development of the knowledge economy. It is therefore crucial for them and their organizations that they change the way they lead accordingly. In this new series, you will explore the key challenges you face as a leader and learn practical tips on how to meet them head-on.
10 Solutions to key Digital Challenges
The fallacy of disruption-focused thinking
Netflix and Airbnb illustrate the difference between a disruption and a transformation. Not everything we call a disruption actually is one and we should choose our words carefully when describing digital innovations.
Be a culture-neutral leader
Because companies are relying more and more on a global workforce, they need to adapt their leadership style in order to avoid alienating large sections of their staff. Developing culture-neutral leaders has many benefits for companies, leaders and employees alike.
Agility is not the solution to everything
The failure of the Galaxy Note 7 smartphone illustrates how the pursuit of agility at all costs can be dangerous. Agility can be a great asset but it is not a solution to every problem.
Being first to market is not an automatic key to success
Everyone in the digital world seems focused on being first to market. Leaders should understand, however, that this is not enough for success, nor is it even necessary. There are certain circumstances when being first to market is a real competitive advantage, but also circumstances when it is not.
Fostering creativity in a thought-driven world
Work in the pre-digital age was primarily muscle-powered. Digital technologies, however, are making work predominantly thought-driven, with each person responsible for their own effort and creative output. Managers can see the results of their employees' work, but not the creativity that produced it. Leaders in the digital world need to embrace the responsibility for creativity and ensure that everyone else does the same.
Are SMART objectives still relevant in the digital world?
SMART objectives can spell trouble in the digital world. Maybe it's time to stop using them in order to allow people to be smarter in the context of a thought-driven economy.
When you say win-win, mean it!
Win-win is a term that seems to trip off the tongue nowadays. But be careful—to be effective a win-win solution requires a lot of effort from both sides. This term should be used sparingly and only when it actually means something. It is crucial to identify the best people to build a win-win relationship with and how to do so effectively.
Leadership responses in a VUCA world
The acronym VUCA (Volatility, Uncertainty, Complexity and Ambiguity) is a key business concept that should be taken into account in every company's strategy. But watch out! Thinking in VUCA terms is useful as long as you don't treat it as a catch-all term requiring just a single response. Each constituent element requires different leadership responses that are not interchangeable with each other.
Dealing with complexity
In today's digital world leaders face an increased level of complexity. Complex situations made up of a number of interacting factors can be hard to even visualize, let alone manage effectively. Great leaders understand this complexity and have various tricks up their sleeves for dealing with it.
Preparing for a VUCA world
A volatile, uncertain, complex and ambiguous world requires talented people who can grasp the reality of a situation quickly and react accordingly. Leaders should prepare themselves for this kind of environment and ensure they recruit the right talent to guarantee success.
---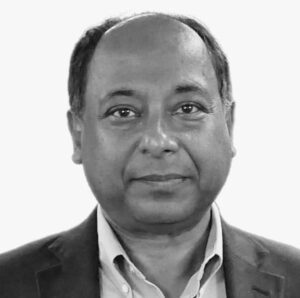 Dr. Amit Mukherjee's career in academia has seen him a faculty member of Ashridge Executive Education and, prior to that, IMD Business School, Babson College and INSEAD.. He has also served as the Chief Technology & Strategy Officer of a NASDAQ-listed hard technology company. As a partner-level consultant, he has advised C-level executives in global companies and has designed and/or delivered over 100 executive programs for their high-potential executives. His book The Spider's Strategy was named one of the 30 best business books of 2009 by Soundview Executive Book Summaries.