With a real focus on the future of work, organizations know that going digital is the easiest and most cost-effective way to scale upskilling and reskilling efforts. But how it's done is just as important as why; it needs to be done efficiently and effectively to make a real impact on outcomes. While simply providing access to online content via a digital platform would be considered Digital Learning, it ignores the complex balance of consuming online content and having meaningful and active interactions with the content. When it's done in the right way and at the right moments, this can really foster the acquisition of skills.
The basic formula of learning something is nothing new, and is something we all experience in schools and even with hobbies. The main challenge of the corporate learning industry is to replicate these proven pedagogical principles and experiences into a digital environment.
While the industry has done a tremendous job in advancing the use of technology and providing access to bits and pieces of content to encourage 'learning in the flow of work', upskilling and reskilling require more. A parallel learning ecosystem must be constructed–one that is relevant, personalized, and helps individuals truly acquire the right skills they need to unlock their potential and navigate the future.
What are the components of a highly efficient learning ecosystem?
The starting point to a highly personal and relevant learning ecosystem is paying attention to what to learn. This doesn't necessarily mean that all learning must fit into the flow of work. Different people have different motivations to learn, and individual personality traits are equally important to consider if you want to make the learning journey effective and appealing. Finding the sweet spot, where individual context meets business needs, should be the goal.
The other main component, equally important, is something that the 'access to content is enough' philosophy completely ignores: a true understanding of how people actually learn. Learning science coupled with the quality of content consumed determines how successfully an individual can be upskilled and reskilled. One-size-fits-all learning will fail most learners and can have a negative impact on the organization over time. It will likely not survive as a learning solution in the future of work.
Addressing the challenges in corporate learning
Today's corporate learning ecosystems have their own challenges, which do not allow the industry to solve the scalability problem of upskilling and reskilling.
First, we must consider relevance. Giving learners a huge library of content without any relevance is not helpful. Learners are already overwhelmed and distracted, and will struggle to find autonomy in a sea of content. We must assure that the topics we offer are relevant for the individual learner by identifying the relevant learning content to consume to acquire the right skill, for the right role and the right learner.
Next, quality & pedagogy must be considered. When you put in the time and effort to learn, you expect to get something out of it as a result. A combination of standardized–mostly free–content and poor learning design/pedagogy will almost always lead to poor learning outcomes and limited skills acquisition.
Engagement is the final challenge to consider. Despite UX advances, a B2C interface is usually always more modern, engaging and interactive that those you find in B2B. Learners want to interact in the same engaging way as they do on Facebook or YouTube, and can't understand why their corporate learning platform is so boring. They want something simple, ergonomic, and truly mobile. With a great interface, skills acquisition comes easily because the learner doesn't have to overthink navigation. Personal touches make the learner feel special and the content more relevant to them individually.
If the learning journey doesn't deliver on all three of these key points, skills acquisition is sure to fail. The corporate learning industry needs to constantly measure and monitor our approach. We need to measure the impact in a systematic way in order to ensure that skills have been transferred, and can be immediately applied in the work environment.
The future of work will go beyond learning in the flow of work
The notion of 'learning in the flow of work', also known as 'just in time' learning, has an important role to play and should not be abandoned because it is sometimes necessary to get an immediate question answered. It can also provide necessary information to finish immediate tasks at hand, particularly important in today's world due to a continuous demand to increase the pace at which an individual gets the job done. But this approach will never completely solve the problem of getting your workforce future-ready.
---
ABOUT OUR EXPERT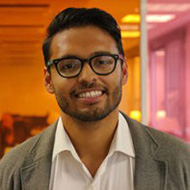 Danish Khan is reponsible for Partnerships and Analyst Relations at CrossKnowledge. Prior to this role, Danish managed the product marketing and sales enablement activities. He holds a master's degree in corporate strategy and a bachelor's degree in electronics and communication engineering.