Since working from home became common practice during the pandemic, the appetite for remote and hybrid working has continued to grow. The Accenture Future of Work Study 2021 found that 63% of high-growth companies have already adopted a "productivity anywhere" workforce model.
Both employees and employers have seen the benefits, particularly in areas such as well-being and productivity. However, for many of us, transitioning rapidly to this new environment has not been without its issues.
Lisette Sutherland, hybrid working expert and Wiley author of Work Together Anywhere, has developed a seven-part Skill Path specifically designed to tackle these issues and help organizations get the most out of this new working world. By briefly exploring the program's objectives, content, and outcomes, this article outlines how you and your organization can benefit from this exclusive learning program.
What are the program's objectives?
This exciting new program is designed to help managers and their teams make a success of hybrid working, capitalizing on its advantages while mitigating its risks.
It covers everything from facilitating cohesion and collaboration to managing conflict and potential difficulties. The program also features essential advice on adapting your organization's infrastructure, technology, and processes, to help ensure more successful meetings, working practices, and talent retention.
It is particularly useful for helping managers organize teams that consist of a mix of in-office, remote and hybrid workers.
Hybrid working can be a way to increase employee motivation, attract and retain talent by offering more flexibility than some of their competitors, and reduce their office space and costs – and as a result, their economic performance.

Lisette Sutherland, 'Hybrid Working' Skill Paths program
Who is the program for?
The program is structured into seven Skill Path sessions, each exploring a subject area key to successful hybrid working and collaboration. The first four sessions are intended for all employees, including managers, and three are designed exclusively for managers. With such a wide range of topics on offer, there is plenty to help everyone adapt, and even thrive, in this new way of working.
How is the program delivered?
Paths specifically designed for managers focus on topics such as leadership, hiring, and onboarding, while other sessions tackle the broader challenges.
The program offers a range of different content formats to support different learning styles and preferences. These include traditional learning techniques, as well a series of 14 short videocasts and interactive exercises to help connect learning with day-to-day, real-world working experiences.
Understand Hybrid Ways of Working – Examines the on-site and remote working options available, and the respective risks and rewards for employees and organizations.
Set Yourself up for Success in Hybrid Working – Provides strategies to ensure your organizational skills, mindsets and workspaces are ready for distant working.
Ensure Seamless Collaboration at a Distance – Gives tips for collaboration, conflict resolution and information sharing in separated workspaces.
Meet Effectively in a Hybrid Workplace – Offers strategies to ensure online meetings go more smoothly, while maximizing team productivity.
Lead a Hybrid Work Team – Covers best practices for managing mixed workplace environments and how to transition between them.
Hire the Right People for Hybrid Working – Explores how to screen new or existing team members for the right traits and mindset for hybrid working.
Onboard in Hybrid Work Environments – Shows you how to affectively onboard new colleagues remotely by establishing a thorough and welcoming induction process.
Whatever shape our post-pandemic world takes, there is no doubt that hybrid working is here to stay. The opportunities it creates in our increasingly digitally-focused world are boundless. However, it is up to L&D teams to provide managers and teams with the training and support they need, drawing on experts like Lisette to maximize these opportunities and ensure that hybrid working is a success.
Find out from Lisette how your organization can benefit from her hybrid working program.
---
ABOUT LISETTE SUTHERLAND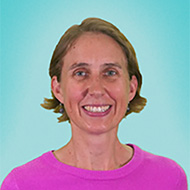 Lisette is a CrossKnowledge faculty member and Director of Collaboration Superpowers, a company committed to helping people work better together remotely or on a hybrid basis. She wrote a book on hybrid working before it became trendy and has since shared her passion for the subject in numerous workshops, podcasts, and events around the world.