Many leaders, regardless of their success, can often feel stuck and unable to progress, and this sometimes brings about counter-productive behavior such as negative comments, judgments, or even blame avoidance. A negative attitude prevents leaders from advancing and can in turn harm the company.
Once these guidelines were applied, multiple leaders have discovered that teams had a strong but unexplored potential. To promote collective intelligence, leaders can help colleagues give the absolute best of themselves by deeply focusing on a knowledge sharing culture and capitalizing on the best practices in the workplace. To achieve positive change, leaders should go beyond simply learning particular techniques, and also try to rid themselves of certain behaviors.
It is crucial that a leader be flexible and able to reassess their environment. By developing leadership that is focused on support, sharing, and motivation, future leaders will be able to establish new ideas within a stimulating and nurturing environment.
To support companies looking to develop a different vision of leadership, Marshall Goldsmith suggests addressing what could be improved in the future rather than focusing on past events. He has developed a unique and powerful 360-degree feedback method which allows leaders to improve their interpersonal relationships while also enhancing self-improvement. Teams, executives, and even clients can anonymously evaluate the leader based on their managerial skills, behavior, or company oversight and operations. This provides a general overview while giving colleagues the chance to objectively share their thoughts about the posi-tion of their leader.
It equally focuses on what skills or behaviors the leader needs to improve. The review is evaluated on the leader's ability to communicate, invest, guide, and organize their activities.
Discover the program Marshall Goldsmith has developed with CrossKnowledge. Valuable advice for any company looking to push their leadership to the next level!
---
ABOUT THE AUTHOR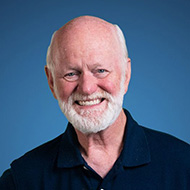 World-renowned executive coach Marshall Goldsmith has worked with at least 150 leader-coworker teams from the largest companies around the globe. He has won the Thinkers 50 Leadership Award twice and has been celebrated for his coaching work by Inc. Magazine and Global Gurus. Named the world's most influential leadership thinker in 2015 by the Harvard Business Review, Marshall Goldsmith is a pioneer in leadership coaching.