Organizations today face numerous challenges to operate efficiently and maintain a competitive advantage in times of change. Change requires new behaviors, new routines, new methods, new customers, new perspectives, and new technology. It is upon company leadership to provide the proper direction to help their teams & employees navigate these challenges and adapt appropriately. To improve alignment between achievement of business goals and leaders' skills to drive achievement of those goals, three steps are required: the creation of a business strategy, followed by a leadership strategy, followed by a leadership development strategy.
Leadership today is not delivering on board level expectations: 71% say their leaders are not ready to lead for the future; only 25% confirm they had a ready successor identified for one out of 10 critical leader positions; 81% indicate that their company's leaders are not effective at developing leaders. In addition research shows there are issues in developing leaders in time and in a consistent and cost-effective way. There's a growing need for organizations to completely rethink how they develop their leaders.
How Leadership Development can Deliver its Promise – Redefining the Strategy
It is important for L&D to develop a clearer understanding of how leaders in their organization prefer to learn and how they are learning now. This includes defining a target audience, identifying Key Performance Indicators (KPIs), offering a personalized curriculum, providing assessment capabilities and a just-in-time LD-offer based on the required future leadership skills. Classroom training is still the dominant method in leadership development. Adding technology-based, online learning components to the mix of leadership development activities makes it possible to develop leaders at all levels faster and more flexibly compared to using traditional face-to-face solutions. This can be a crucial advantage for time-constrained leaders and for organizations with geographically dispersed operations. Blended and modular learning enables L&D to respond to the specific needs of the target audience, while at the same time reducing transaction time and costs. This greater flexibility makes it possible to personalize L&D activities and tailor them to the specific challenges that leaders are facing.
High-Impact Leadership Development Strategy: Features and Barriers
It is essential that L&D collaborates with senior executives to define the ambitions and objectives for their leadership development initiatives. In parallel the L&D-MD leaders need to become aware of the success criteria and barriers to high-impact leadership development in order to optimize their blended design for a future-proof Leadership Development plan. The outcome is a high-impact Leadership Development strategy that offers:
A framework to develop leaders at all levels without exception with limited resources & budget
A just-in-time approach ensuring all critical & future leadership capabilities are developed and embedded in daily work
An opportunity to change the leadership development from program/event based to a systematic and holistic process with personalized learning
Global consistency of key leadership capabilities across countries, functions and levels
Specific metrics/ KPIs to improve business performance through learning
A re-shaped Leadership Development framework stands out from most current LD-curricula because it makes a clear distinction in 4 leadership development solutions 'columns', offered in parallel to the relevant leadership levels. To ensure that they add value at individual leadership level, a strong link to the organizational performance cycle and assessments is foundational. The topics in the 4 distinct leadership development columns are identified through an annual needs analysis process and academic research reports on the future leadership skills and consist of:
Organizational transformation programs: strategic transformation programs enabling the organizational strategy and offered to the different leadership levels > "Prepare for Change"
Career programs: broad and long (6-18 months) LD-programs preparing selected leaders for their next leadership role > "Prepare for Tomorrow"
Performance modules: stand-alone and short (max 3 days) LD-modules to upskill leaders at individual level based on performance needs > "Prepare for Today"
Digital Academy: 24/7 available and short learning nuggets to support leaders at all levels in handling immediate business issues > "Prepare for Now"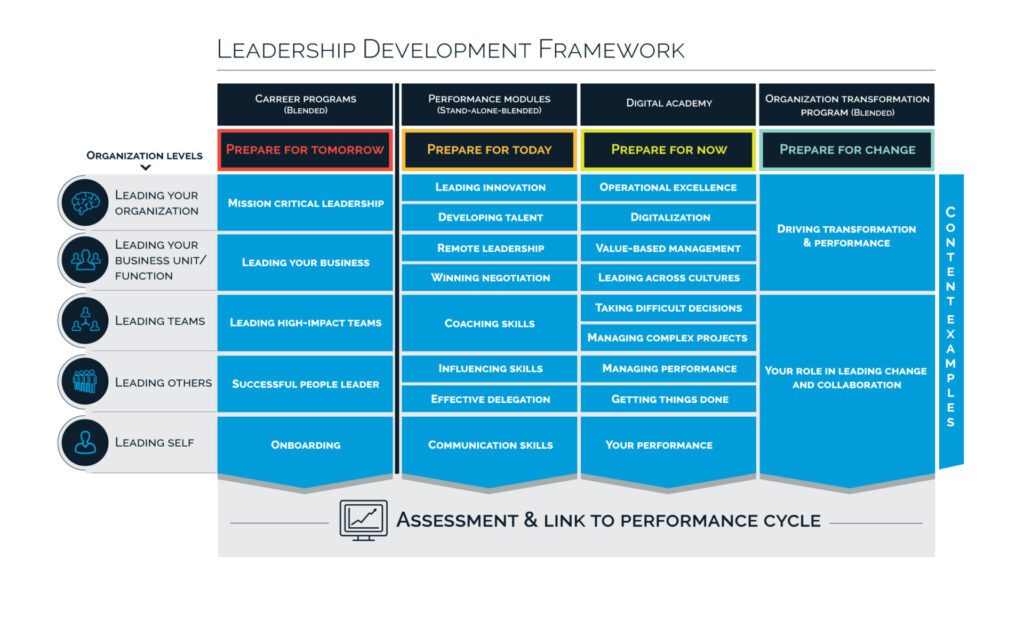 Image of the Re-shaped (blended) Leadership Development framework
The promise and opportunities are there to grab, but L&D departments need to understand the current barriers to diversifying leadership development to realize its full potential. To which extent can leaders at all levels 'own' their personal development? Are they ready for the new learning era? Is L&D able to achieve senior executive buy-in for this transition and the investments in learning technology? Does L&D have the right skills and mindset to design, implement and manage blended learning? Can leaders at all levels be encouraged to adopt new ways of learning to develop themselves and their employees in a supportive learning climate? How to market the new LD-approach to all leaders?
These questions highlight the need to establish a structured L&D governance with senior leader sponsorship for the new Leadership Development strategy and to invest in developing L&D capabilities and roles (manage communities, support workplace learning, marketing & communication, data-analytics). In addition, best practice organizations show that professionalizing communication & marketing for the new Leadership can boost learner participation, engagement and performance impact.
Bottom Line
Organizations need to rethink on how to develop their leaders at all levels in order to prepare them for organizational change, their next career step, improving today's performance and equipping them to solve immediate leadership issues. Re-shaping the corporate L&D strategy can deliver these ambitions but implies a massive transformation from today's dominant career-step and face-to-face learning approach. This requires skills and courage from L&D leaders and a clear vision of how to structure & offer a best-practice leadership development framework to deliver on the promise.