CrossKnowledge was just recognized as one of the Strategic Challengers in the new 2021 Fosway 9-Grid™ for Digital Learning, confirming the excellence of our offering the digital field.
Proving the depth and quality of service that we provide to our clients, CrossKnowledge focuses on developing unified digital learning solutions. Our presence is confirmed by CrossKnowledge's growing base of 500 global customers — including Pandora, L'Oreal, Engie or Alstom — meeting the needs of complex enterprise-scale global companies and assisting them in their learning challenges by converting training process into real business impact.
CrossKnowledge is a consistent major player in the digital learning market in Europe. Its presence continues to be felt as its portfolio evolves to incorporate new offerings and different types of digital learning to better serve its customers.

David Wilson, CEO of Fosway Group
Effective digital learning experiences are at the heart of what we deliver to meet the needs of our customers and make them thrive, by continuously upskilling their workforce to be future ready. The affirmation of our position as a Strategic Challenger by Fosway means we're on the right track to deliver ever more effective skill building solutions.

Philippe Derouck, Global Brand and Product Marketing Manager, CrossKnowledge.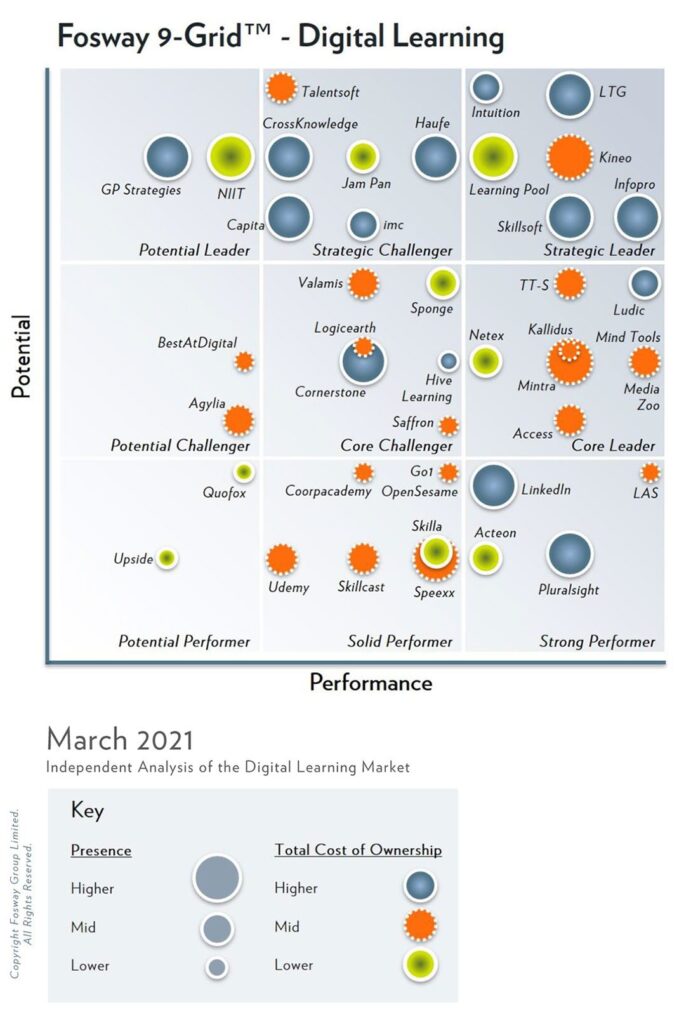 Further details on the 9-Grid™ can be obtained from the Fosway website.
---
About the Fosway 9-Grid™
Fosway Group is Europe's #1 HR industry analyst. The Fosway 9-Grid™ provides a unique assessment of the principal learning and talent supply options available to organisations in EMEA. The analysis is based on extensive independent research and insights from Fosway's Corporate Research Network of over 150 customer organisations, including BP, HSBC, PwC, RBS, Sanofi, Shell and Vodafone.