Industry Analyst Josh Bersin Hosts "Building a World-Class Learning Organization," a 6-week Online Program for Today's Corporate Learning Challenges
Following the first edition remarkable success, CrossKnowledge announces a new edition of the online Masterclass, "Building a World-Class Learning Organization," to help L&D professionals grapple with the complex challenges of corporate learning. This 6-week program captures the expertise of Josh Bersin, a global industry analyst and thought leader, and combines it with CrossKnowledge's extensive experience in digital learning. The class will cover a wide range of topics – including the effective use of modern technologies, learner engagement, reskilling learning teams.
Corporate learning is important to business success and yet it can be very difficult to effectively deliver. Today, organizations have hundreds of options, dozens of technologies, and many ways to design and deliver learning solutions. These variables, coupled with changing workforce demographics and continually evolving business needs, significantly complicate the jobs of L&D professionals.
The Masterclass addresses the many challenges L&D is facing – ranging from L&D leadership and governance to high-impact learning culture. Participants will also be trained on key topics such as how to define learning technology and platforms, how to create an incomparable learning experience, and how to manage content and programs. Bersin will also teach L&D professionals how to develop new learning methodologies and styles to meet the needs of today's employees and how to engage them to encourage ongoing self-development.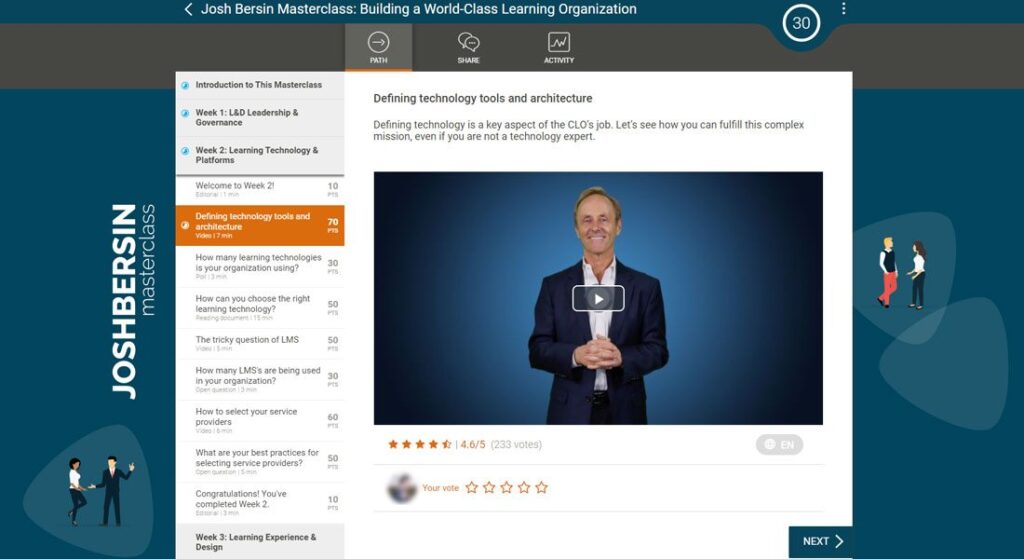 Throughout the class, Bersin shares actionable advice and concrete examples that L&D professionals can apply to drive their organizations to success – all based on decades of experience and his ongoing strategic work with hundreds of companies around the world,
With this class, CrossKnowledge provides a new opportunity for L&D professionals to develop the skills needed to succeed through an immersive learning experience with CrossKnowledge Blendedx technology.
---