We are very happy to announce the launch of the online Path to Performance (P2P) course entitled "Be an Ally for an Inclusive and Equitable Workplace" that we have developed with inclusion expert Amber Cabral.
If you want to contribute to a more diverse, more inclusive and fairer workplace, this course is for you!
Be an Ally for an Inclusive and Equitable Workplace in a nutshell
Supporting workplace diversity isn't as simple as not discriminating against certain groups. The real work in creating a diverse and inclusive culture requires some uncomfortable conversations. You may need to make difficult choices. You have to really take responsibility and know when and how to stand up and be an ally. You must recognize and support differences in yourself and others, including the ways in which you have privilege (and absolutely everyone has privilege in some form). And you need to be able to harness that privilege in the right ways as an ally and an advocate for others.
The path to diversity and inclusion involves making mistakes, but the good news is there are ways that everyone can participate and improve in this journey. This course shows how to put a stop to discriminatory and unjust behaviors—whether you had previously noticed them or not—and how to connect with those with diverse identities. It will show you how to stand up for yourself in the workplace and how to be an ally to others. The resulting diverse, inclusive, and equitable culture isn't just friendlier and more welcoming, it's more productive as it's fully able to harness the ideas, methods, and talents of a broader range of people.
An actionable course for creating a more diverse and inclusive workplace
This course is divided into the following 4 levels:
Explore diversity and inclusion
Allyship starts with you
Manage microaggressions and bias
Balance equity and equality

It is filled with stories, ideas, tips, activities and tools to help you become a true ally!
This P2P is now available in American English and French. It will be available in Brazilian Portuguese, Chinese, Dutch and German in September.
The corresponding Skill Paths will also be available in September.
---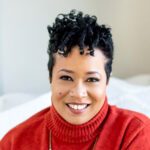 Amber Cabral is an inclusion strategist, certified coach, writer and speaker. She is the author of Wiley bestseller Allies and Advocates. Formerly a Diversity Strategist at Walmart Stores, Inc., she is the founder of Cabral Co., a diversity, equity and inclusive leadership-focused consulting firm. She hosts the You Can Have Whatever You Want® podcast and regularly speaks and writes about inclusion, culture, equity and social justice topics. Amber also serves on the Executive Board for non-profit organizations committed to promoting diverse representation and empowering women and girls across the globe.