Are you afraid of complexity? If your goal is to lose your fear and instead embrace complexity and turn it into your competitive advantage, then these courses are for you! Francis Cholle will give you the keys to rediscover your natural ability to deal with complex problems by tapping into the different types of intelligence at your disposal: rational, emotional, and intuitive.
The tools to be more at ease with complexity
In an era of rapid technological transformation, AI disruption, and political, environmental, and economic turbulence, it's easy to feel overwhelmed by the complexity that surrounds us. But it doesn't have to be this way. Humans have always been able to deal with complex problems, as we all have a natural ability to embrace the complexity of the world we live in. This entails listening to our instincts and emotions as well as using our logical skills. Francis Cholle helps you to reconnect with this natural ability for your own benefit as well as for the good of your organization.
Four great Skill Paths to tackle the complex problems you face
---
Webinar – Navigating Complexity: a Fireside Chat with Francis Cholle on Problem-Solving in Business
Watch our on-demand webinar for an insightful fireside chat with Francis Cholle, at helping the C-Suite overcome complex situations by looking at human potential through an original lens.
---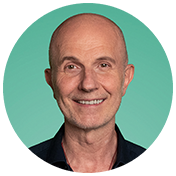 Francis Cholle is an international consultant, best-selling author, and entrepreneur. He uses deep human learning and cognitive science to help leaders and organizations solve complex problems and thrive in disruption. He advises C-level executives on how to develop the new leadership mindset necessary to successfully navigate the current paradigm shift that reshapes what we do, think, and aspire to achieve. This is what he calls "intuitive intelligence." Intuitive intelligence emerges out of the powerful synergy between reason and instinct, enabled by intuition which bridges the two seamlessly. It delivers exceptional results, with ease.
Francis is the CEO and founder of The Human Company, SQUIRCLE™ Academy and the Know Better World Foundation. As a keynote speaker, he has presented at the Davos World Economic Forum, on the TED stage, and at Wharton and Columbia graduate schools of business. He has been featured in the Wall Street Journal, on Fox, CBS, TechCrunch and BFM TV, among others. He is the author of two best-sellers: SQUIRCLE™: A New Way to Think for a New World and The Intuitive Compass: Why the Best Decisions Balance Reason and Instinct.
Born in Paris, he has dual French-American citizenship and has lived in Los Angeles for the past 15 years.