Path to Performance™: Structured Training Paths For Deep Skills Acquisition
Path to Performance™

is a structured training path that offers a unique learning experience combining premium content, human interactions and world class technology, designed to offer deep skills acquisition.
What's In It for Your Organization?
Ready for Roll-out
Off-the-shelf, packaged training paths for quick and efficient go-live
State-of-the-art
A distillation of our best learning design, co-created with our most demanding clients
Easy to blend & customize
Experience Path to Performance™ in your graphic environment, and add your own content/activities
An Active Learning
Process that Includes Several Activities
■ 
A step-by-step learning experience using storytelling techniques
■ 
On the job, active learning, gamified
■ 
Social & engaging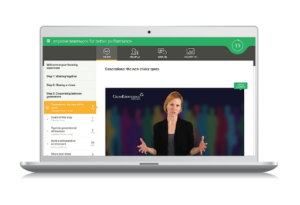 Path to Performance™ Covers 5 Key Areas:
Personal Development & Enhancement
■ Unlock your creative potential now
■ Give a boost to your communication style
■ Dare to Become an Intrapreneur and reap the benefits
Management, Performance & Results
■ Take your team to the next level of performance
■ Help your team be more customer-focused
■ Make performance reviews mean something
■ The finance tools that every manager needs
■ Get the best out of a remote team
■ Add coaching to your management style
Sales Performance
■ Manage your key accounts like a champion
■ Sell solutions, not products
■ Create a great customer experience
■ Maximize the potential of your sales team
Leadership
■ Strategies for effective talent management
■ Shift to management 3.0
■ Keep your team motivated and engaged
■ Attract and retain top talent
■ Build a learning team
Well-Being, Collaboration & Diversity
■ Harness emotions to be more effective
■ Foster a happy workplace
■ Get your team working together
■ Make remote working work for you
Want to Drive Skills Acquisition Towards Performance?
Learn how to use bridge content to increase relevance, impact, engagement and sustainable skills acquisition.
View our on-demand webinar