If you and your team sometimes feel lost and overwhelmed by the complexity of the world we live in, this Path to Performance is for you! It will give you the tools you need to turn the most complex problems into your competitive advantage by tackling them head-on and building original and effective solutions.
In the fast-changing and unpredictable environment of today's organizations, there are problems that just don't have easy, direct solutions.
This course will show you how to solve complex problems using the full range of human abilities: logic, emotion and intuition. While all of these are undoubtedly innate capacities, they are often suppressed in many of today's workplaces. Unlocking them means changing the working environment so that it is ready to accept and embrace complexity. This requires a whole new mindset, approach, process and culture. You will learn when to cede control to avoid becoming overwhelmed, how to open yourself up to new solutions, and how to select and implement those solutions successfully.
In addition to learning the necessary strategies for doing these things, you will also be equipped to take your first practical steps. You'll see how to lead your team away from the rigid mindsets which no longer work in a world with many unknowns and ambiguities. You and your team will be more ready to embrace your holistic intelligence and perceptions and use them to improve your agility in a disruptive environment.
The key to taking on any complex problem
This course is designed for leaders and managers and comprises the following four sections:
---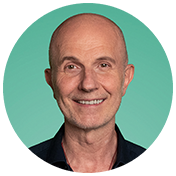 Francis Cholle is an international consultant, best-selling author, and entrepreneur. He uses deep human learning and cognitive science to help leaders and organizations solve complex problems and thrive in disruption. He advises C-level executives on how to develop the new leadership mindset necessary to successfully navigate the current paradigm shift that reshapes what we do, think, and aspire to achieve. This is what he calls "intuitive intelligence." Intuitive intelligence emerges out of the powerful synergy between reason and instinct, enabled by intuition which bridges the two seamlessly. It delivers exceptional results, with ease.
Francis is the CEO and founder of The Human Company, SQUIRCLE™ Academy and the Know Better World Foundation. As a keynote speaker, he has presented at the Davos World Economic Forum, on the TED stage, and at Wharton and Columbia graduate schools of business. He has been featured in the Wall Street Journal, on Fox, CBS, TechCrunch and BFM TV, among others. He is the author of two best-sellers: SQUIRCLE™: A New Way to Think for a New World and The Intuitive Compass: Why the Best Decisions Balance Reason and Instinct.
Born in Paris, he has dual French-American citizenship and has lived in Los Angeles for the past 15 years.